All 1 entries tagged Representations Of Lesbians
No other Warwick Blogs use the tag Representations Of Lesbians on entries | View entries tagged Representations Of Lesbians at Technorati | There are no images tagged Representations Of Lesbians on this blog
October 12, 2010
Writing about web page http://www.lboro.ac.uk/departments/ea/events/Writings%20of%20Intimacy.html
Screening Intimacy: Papers from Peacock, Reed and Schaller.
Steven Peacock's paper focussed on how within the big architecture of film, scenes of intimacy could emerge. He looked at two great films; The Age of Innocence (dir. Scorsese) and The Insider (dir. Mann), and he argued that the narratives of the films were presented in a way that made them extensive and intimate. For The Insider, Peacock analyzed the first meeting between the producer Lowell Bergman and the insider on US tobacco, Jeffrey Wigland, and he discovered a tension between intimate spaces of enclosure and dangerous spaces of openness. Particularly interesting was Peacock's discussion of The Age of Innocence, in which Newland Archer is to marry May Welland but instead develops an attraction to the disgraced family member, Elena Olenska. Peacock analyzed the scene in the box at the opera in which Elena's gestures are both declamatory and intimate. Elena extends her arm to Newland to be kissed, but her hand hangs there while he hesitates. They start to make smalltalk and in discussing her experience of the opera, Elena extends her fan over the spectators. When she does so, she is expressing her fondness for the place, yet it is also a gesture that claims dominion. In detailing the precarious relationships of Elena, Newland and May, Scorsese focuses on gestures that are both intimate and public.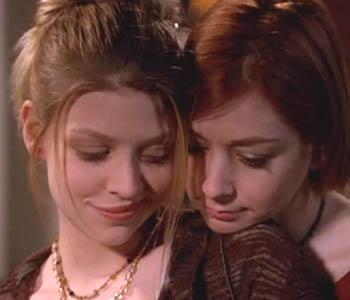 Clare Reed from University of Reading gave an entertaining paper on representations of lesbians on TV. The paper was titled 'The Kisses of Her Mouth: The Invisible Intimate Lesbian in Friends and Buffy the Vampire Slayer'. Reed argued convincingly that lesbian kissing is absent these programmes, or if it is present it is exploitative playing on men's sexual fantasies. There are lesbian characters in Friends: the lesbian couple Carol and Susan who are made safe by the fact that they are mothers (Ross is the father).Carol and Susan are financially secure and professional and they do not conform to the butch-femme dynamic of some lesbian relationships. Reed analyzed the episode, 'The One Without the Ski Trip', which shows Carol taking a hair (pubic?) out her mouth, but nothing more graphic is shown. She also looked at 'The One with Rachel's Big Kiss', which features an exploitative kiss between Rachel and an ex-college friend. In Buffy, Willow and Tara are the sole gay couple; they are not 'visually obvious' lesbians and they are aesthetically similar. Reed analyzed the episode 'New Moon Rising', where the lesbian kiss between Willow and Tara is hidden when they blow out a candle. 'Touched', too, shows Willow and Tara in bed but nothing intimate is shown. Reed highlights that the women are only seen in a sexual way in 'Restless' when Zander has an erotic dream about them. Overall, Reed seemed to suggest that TV representations of lesbians are still not very progressive. It is interesting to note, however, that she only looked at American TV and in particular at programmes which had their hayday in the nineties. It would be interesting to consider whether British TV of this period has any more progressive representations of lesbians (e.g. Queer as Folk?). It might be interesting too to consider American TV of the noughties which features lesbians, and I am thinking particularly of characters like Keema Greggs in The Wire. I am not so sure about Reed's demand for visually obvious lesbians on TV, e.g. butch and femme identities. Perhaps the idea of a 'visually obvious' lesbian needs questioning – do butch and femme stereotypes need to be subverted too? – but I am with Reed in condemning the striking avoidance of honest, genuine scenes of lesbian intimacy.

The final paper on this panel was by Karen Schaller of UEA and it was on Elizabeth Bowen's short story, 'Dead Mabelle'. Schaller put forward an argument that Bowen writes this story in a language of the cinema that works with gaze, lighting, camerawork. Written in 1927, the story tells how Williams falls in love with a dead film star, and it describes the process of watching her films until he comes to her last. Mabelle's films are not enduring art – her film reels are later melted down for patent leather. She is, however, a femme fatale whose excess of presence represents a lack. My notes on this paper are not absolutely complete, but Schaller's analysis of how the cinema and the short story 'accelerate together' was especially fascinating.