All 2 entries tagged Maya Angelou
No other Warwick Blogs use the tag Maya Angelou on entries | View entries tagged Maya Angelou at Technorati | There are no images tagged Maya Angelou on this blog
June 18, 2011
I discovered this on the Live From Mars album this morning. Ben Harper merges a beautiful song about Martin Luther King with Angelou's poem 'Still I Rise': http://youtu.be/Yi4SHLrmiqI
January 12, 2011
Some students at Cardiff High School are currently reading my first collection The Secret and their teacher, Samantha Williams, has asked me if I could talk a bit more about my use of intertextuality in the title poem of The Secret published in 2007.
...
The Secret
A peculiar symptom in those poisoned by Belladonna is the complete loss of voice.
— Medical Dictionary
Dyma'r Wyddfa a'i chriw; dyma lymder, a moelni'r tir.
They said: Why do you want to go to that place? There is nothing
to see. And I said: But I like its name. It means "snow" and "death".
It has something to do with the colours of red and green. So,
they were talking about the war, the table still uncleared
in front of them. Centuries of hate divide the Severn channel
from the Welsh. Far away, dark before the shining exit gates,
some place was waiting, its features unrecognizable.
I was born in the place on a slope few see that falls westwardly
like the feel of a pulse in the dark when I stay up all night.
Its name – how impossible! A piece of grass on the tongue
kidneys slipped from silk or striding the night for speckled eggs.
_But me your work is not the best for–nor your love the best,
nor able to commend the kind of work for love's sake._
I am a settler East of the River, but back I have come
wintering in a dark without window at the heart of the house.
...
'The Secret' was essentially a poem about Wales, based on T.H. Parry Williams's poem 'Hon'. 'The Secret' begins with a line from 'Hon' written in Cymraeg, the Welsh language; it personifies Mount Snowden (Yr Wyddfa), but compares the mountain's power with the poverty and bareness of the land below. Parry Williams asks whether it matters that he was born in Wales. Isn't it just accident or chance that causes one to be born in a particular place? Why does it matter? Why feel any affiliation to that place?
'The Secret' is not only an exploration of feelings about place, however. It's also a manifesto that refers to a number of poets who were important for my poetics when I was writing this poem.
-
Jon Ash
When I was writing this poem, I was very influenced by Jon Ash, an expatriate British poet and writer. Ash lives in Istanbul in Turkey, a city where I spent a formative summer as a student. He is a surreal, idiosyncratic and witty writer, and in 'The Secret', I refer to his book The Anatolikon, a book exploring place and history (see this review).
-
Maya Angelou
Maya Angelou is an American poet who tends to write about what it is to be black and female. When I was a teenager, she really influenced me, simply because she had such a powerful voice. She wasn't passive but active, not meek but angry and defiant. In 'The Secret', I reference her poem 'London', in which she describes how
...

Centuries of hate divide St. George's
channel and the Gaels

...
I remember liking the idea in this poem that the English channel is a site of contest between the English and their others: the foreigners in Europe. I related this idea to the Welsh and English and the Severn Channel between them, but I thought too, that for certain kinds of nationalists, it isn't enough merely to be on the right side of the border. Just living near the border can make you suspect or not Welsh enough. Consequently, the Welsh are not only divided from the English but recoil from the border itself in 'The Secret'.
-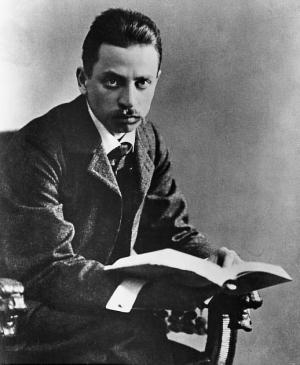 Rainer Maria Rilke
Rainer Maria Rilke's poetry is simply some of the most beautiful to ever have been translated into the English language. He was originally from Prague and he led a tumultuous life. Following the philosophies of the German dramatist Henrich von Kleist, Rilke believed that there were three ways of being in the world: superconsciousness (gods, angels, higher powers), having no sense of consciousness (e.g. inanimate objects, animals), or being self-conscious (human beings). Being self-conscious was the most difficult, according to Rilke, because it meant always having doubts and anxieties about one's life.
In 'The Secret', I refer to Rilke's poem 'Orpheus, Eurydice, Hermes', which tells the story of Orpheus's journey into the underworld to save his lost love Eurydice. You can read the story from Greek myth here if you don't know it. The key moment of the story is when, in order for Eurydice to follow Orpheus out of the underworld, Orpheus is instructed that he must never look back. He has to trust that Eurydice is behind him following. Orpheus can't resist the temptation to look back, however, and when he does, Eurydice disappears. In his version of the tale, Rilke lingers on this moment:
...
And when suddenly
the god stopped her and, with anguish in his cry,
uttered the words: 'He has turned round' –
she comprehended nothing and said softly: 'Who?'
But far off, darkly before the bright exit,
stood someone or other, whose features
were unrecognisable. Who stood and saw
how on the strip of path between meadows,
with mournful look, the god of messages
turned, silently, to follow the figure
already walking back by that same path,
her steps confined by the long grave-cloths,
uncertain, gentle, and without impatience.
(Read the full poem at this link ).
...
I reference this moment in 'The Secret', but instead of a person being unreachable, a place is out of reach.
-
Thomas Hardy
The novels and poetry of Thomas Hardy have been a huge influence on me. I studied The Return of the Native as a school student, and went on to read Tess of the D'Ubervilles and Jude the Obscure, as well as Hardy's poems. Hardy is wonderful at writing about losses and disappointments. He also gives place, landscape and nature a huge significance, so that the background of the heroes and heroines is like a character itself. 'The Secret' references his moving poem, 'I Found Her Out There':
...

I found her out there
On a slope few see,
That falls westwardly
To the salt-edged air,
Where the ocean breaks
On the purple strand,
And the hurricane shakes
The solid land.
...
The poem was written for Hardy's wife, Emma, after she had died. It is a moving poem, which the place described again becomes a larger-than-life character witnessing the sombre reflections.
By referencing Hardy, I am admitting my indebtedness to him, but I am also identifying the narrator as one of Hardy's women. In his novels, Hardy's female characters (e.g. Tess, Eustacia Vye in The Return of the Native, Bathsheba Everdine in Far from the Madding Crowd) are often temperamental, capricious, and emotional. The narrator of 'The Secret' is one of Hardy's women speaking back.
-
John Burnside
Burnside is a Scottish poet and novelist and I admire his work very much for its intricate description of place and feeling. I reference his poem 'The Myth of the Twin', in which he describes how, at night, he has the feeling that someone is awake in his grandfather's house. The poem is dream-like and surreal like a waking nightmare, and he describes at one point 'a feel of a pulse in the dark': someone or something is out there in the darkness. I used this line to describe the narrator's quest to discover home or place: a sense that something is there waiting if only she could find it.
-
Marina Tsvetaeva
I have written about the Russian poet Tsvetaeva quite a bit on this blog (see here ), because I admire her work greatly. Tsvetaeva lived through some tumultuous times in Russia in the early twentieth century, but she produced some beautiful love poems including a favourite of mine: the sequence 'Poem for Blok', a tribute to the other great Russian poet, Alexander Blok. In the first poem of this sequence, Tsvetaeva tries to define Blok's name using a display of startling images:
...
A bird in the hand is your name,
An icicle on the tongue is your name,
One movement of your lips is your name,
Five letters is your name.
A ball caught in the flight it is,
A silver tambourine between the lips,
(Read the full poem here at this
link
)
...
I similarly try to define the name of my home country.
-
Gillian Clarke
The image of kidneys in 'The Secret' is a reference to the Welsh poet Gillian Clarke. Clarke often writes about the harshness of farm life in Wales: the slaughtering of animals and the cycles of life. She has been a huge influence on my writing, simply because she writes so clearly and so powerfully about what it is to be a woman and Welsh.
-
David Morley
David Morley was my tutor at Warwick University and supervised my PhD on Welsh women's poetry. He is also an acute and sensitive observer of nature and place, and though he is a poet, he began life as a zoologist. The reference to searching for speckled eggs is from Morley's poetry, especially the way that he negotiates the relationship between the life processes of nature and the needs of human beings.
-
Elizabeth Barrett-Browning
During the period when I was writing this poem, I had been reading poems by the nineteenth-century English poet, Elizabeth Barrett-Browning. The nineteenth century was by no means easy for women in terms of gaining the same opportunities as male writers, but there is some incredible poetry by women like Barett-Browning and Christina Rossetti.
'The Secret' refers to Barrett-Browning's novel-in-verse, Aurora Leigh, which tells of the trials and tribulations of a young woman who wants to be a poet. A key moment is when Aurora rejects a marriage proposal from her suitor Romney; he wants her to give up her poetry and go with him to be a missionary. Aurora refuses and pities women who give up their work for love:
...
I do not blame such women, though, for love,
They pick much oakum; earth's fanatics make
Too frequently heaven's saints. But me your work
Is not the best for,-nor your love the best,
Nor able to commend the kind of work
For love's sake merely. Ah, you force me, sir,
To be over-bold in speaking of myself,-
I, too, have my vocation,-work to do
(Read the full poem on Google Books )
...
-
Li Po
Referencing the Chinese "wandering poet" Li Po seemed important for this poem about seeking home and belonging. The line about being a settler east of the river refers to his poems, but it was also appropriate because at that time I was living east of the Severn in England.
-
Sylvia Plath
The final line is a reference to Plath's poem 'Wintering' (read it here ).