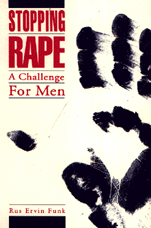 Rus Ervin Funk's Stopping Rape: A Challenge for Men has an intriguing title, and I would be interested to hear how other people react to it. I feel quite ambivalent and have not made up my mind yet, although I am very pleased to find a man writing about sexual violence is a way that is sympathetic to its survivors.
As an account of Western violence and masculinity, the book is very honest in its admittance that sexual violence does happen and men are the perpetrators.
The reality is ugly; it's painful and it's hard to look at. The reality is that men are violent against women. Any man can, and many men do, choose to be violent with near impunity. For most men, violence and sex has become intertwined. And almost all of us who do not choose to be violent are conspiratorially silent about the violence that our brothers are perpetrating. (1993: 19).
Funk suggests that men feel very defensive about violence against women and they find it hard to admit that such acts are taking place even if they have not been violent themselves. Rapists are not rare oddities though according to Funk, who suggests that rapists are probably our friends and neighbours:
the men who are raping the women in our lives are the men in our lives. We need to stop looking at 'those' men, 'those sickos', 'those wierdos' [sic] as the rapists and to take responsibility for rape … Acknowledging that it is our friends and maybe ourselves who sexually victimize women can be more scary and painful than acknowledging the incidence of rape for men and women (23).
To highlight the endemic nature of rape, Funk points out that in a survey of US college campuses, young men were asked whether they would rape if they could get away with it; 27% replied that they would. When the wording was changed, however, so that the question asked whether the students would 'force a woman to have sex against her will', 60% replied that they would.
So why is sexual violence so acceptable? Analyzing masculinity, Funk suggests that men are disconnected from the world around them, that they have a 'militaristic mindset' (21). He explains that 'In order to turn a blind eye to rape, battery, incest, the ain, the oppression, and the violence, you must detach yourself from the humanity of the people being victimized' (21). Funk also seems to think that this disconnectedness is bound up with masculinity and its demand that 'in order to "be men" we're supposed to be "independent"' (21). Being a man, according to Funk, is about 'taking control, taking charge, deciding what we want and going for it at all costs, being non-communicative, and keeping a score' (23). Being a man then really means 'living up to the John Wayne or Rambo image of, to quote bel hooks, "phallocentric masculinity"' (27). This kind of masculinity entertains violence as a way of life:
Men are supposed to be willing, prepared and able to be brutally violent – to the point of killing up to thousands of people. We are taught that part of 'being a man' is being willing and able to 'protect' or 'defend' 'by any means necessary' whatever we may control: property, rights, justice, our country and 'our' women. At the same time, we're being taught to not hit, to be patient and calm, and most recently to be 'sensitive New Age guys'. The mixed message inherent in this dual training establishes what can only be described as a mild form of societal schizophrenia. (40)
What Funk seems to be saying is that we live in a violent society. For example, Funk notes, 'we [men] aren't supposed to be violent, but defending yourself, protecting your honor, and punishing a child really isn't violence' (41). Similarly, he explains that when young men are growing up, they 'are taught to settle conflicts through use of force in a wide variety of way, including verbal pressure, physical intimidation and emotional blackmail' (45).
Funk suggests then that violence has become so normalized that it is easy for men to become rapists, but I am glad to see that he does not excuse men of their responsibility. Instead he calls for a rethinking of how rape cases are prosecuted and of masculinity itself:
Men rarely identify what they did as force and therefore certainly not as rape. When you are taught from the earliest moments of life to use force to get your own way – hit back, shoot to kill, be a little warrior, kill to defend your honor – then using emotional force to get sex doesn't compute as force. This should not be taken to mean that the man is any less responsible, or any less accountable, for his choices or behaviour. It does, however, reinforce the need to listen to survivors when they say that they experienced force – or rape. It also reinforces the need to redefine force based on definitions of people who have experienced being forced as well as the need for men to deconstruct our understanding of force and the ways we express force. (45-46).
Reference
Funk, Rus Ervin (1993) Stopping Rape: A Challenge for Men. Philadelphia PA & Gabriola Island, BC: New Society Publishers.