Wind–up bicycle lights…
Writing about web page http://www.mobilefun.co.uk/powerplus-swallow-wind-up-front-and-rear-bicycle-light-set-p17274.htm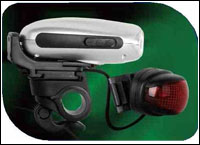 I don't often get approached to review stuff on this blog, but just like buses sometimes requests come in all at once! Just last week I was asked if I wanted to try out the POWERplus Swallow Wind Up Front and Rear Bicycle Light Set.
This is a combination front and rear light set powered by a wind-up mechanism – no batteries required. I confess I wasn't terribly enthusiastic at first. I've used wind-up torches and head-lights before and never been very impressed. OK for emergencies, perhaps, but a bike light is a critical piece of safety equipment and it really needs to work. When I got the device the specifications didn't make me feel much better about it – 1 minute of winding gives 8 minutes of light in constant mode and 18 in flashing mode. 8 minutes isn't long enough for my commute at its shortest.
Anyway, I fitted the set to my bike and gave it a go. I have two front lights already, one a 1W LED light which I run in constant mode, and a smaller 3-LED flasher. I don't have the handlebar space for a third so I used the POWERplus to replace the flasher. I also have two rear lights already, but could mount the new rear as a third. I quite like the design. The rear light mounts to the seat post or, in my case, the seat stay, and is connected by cable (clipped along the top tube in my case) to the bracket for the front light. The front light is removable, while the rear stays attached. A single switch on the front light controls both lights, so both are either constant, flashing or off. I'd quite like to have the rear constant and the front flashing, but that's just me.
In use I was pleasantly surprised. The rear light isn't hugely bright but I have two other lights on the back of my bike and one more certainly can't hurt. The front light surprised me by being brighter than I expected. It also lasted longer than the specifications suggested. I've given it a 60 second wind and had 10 minutes or more of constant light plus a similar amount of flashing time from it. This suggests the internal battery isn't fully charged by the quoted 1 minute wind and there was some residual charge in the battery before I started. Maybe winding for longer will get you more runtime? I haven't had a chance to try that out yet.
I wouldn't use this set as my only lights. Neither front nor rear is bright enough by itself, but as supplementary lights they work pretty well. The limited runtime, though, means you are restricted to 10-12 minutes (3 miles?) on constant or 20-ish minutes (5 miles?) flashing before you have to stop and re-charge. If your commute is shorter than that, they work pretty well, and at least you know you'll never run out of power. If you commute further, then look elsewhere…
I'm a little concerned about the lifetime of the internal battery. Rechargeable batteries are typically rated for 500 or so charging cycles. This needs charging every time, which means at lleast once, and sometimes twice, a day for six months of the year. It won't be too long before the battery loses capacity and those runtimes start shrinking. And you have to remember to top it up occasionally during the summer too or the battery deteriorates further. I predict in two years time this is not going to be useful any more.
If you've followed the link above to the web-site for the product, you'll see it is sold by MobileFun.co.uk. What's the mobile phone connection? As well as being a bike light, you can also use this as a mobile phone charger! There's a Nokia-compatible cable supplied, and adaptors for other types are available as extras. Interesting, but since I don't have a Nokia phone I was unable to test this out.
Will I stick with this set on my bike? I suspect not. I like the idea, and if I powered my existing lights with regular alkaline cells it would (a) save me money and (b) keep a pile of batteries out of land-fill. But I already use rechargeables in all my lights and haven't thrown out a battery in a couple of years (although some are getting to that point now). I think I'm more likely to fit it to one of my kid's bikes. They don't often cycle in the dark, always cycle with me anyway, and they'll find winding up the light fun rather than irritating.