Marketa Lazarová (Vláčil, 1967)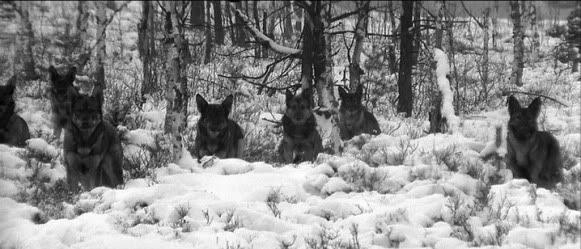 František Vláčil's 1967 epic was a film that I hadn't even heard of prior to a much-hyped DVD release here in the UK. Out of seemingly nowhere there then seemed to be mumblings about this being "the best Czech film of all time" which, naturally, aroused my curiosity. I then recalled reading a mini featurette on it during an issue of Sight & Sound earlier this year. And THEN I noticed that it was retailing for dirt cheap (at least, relative to other world cinema titles.) As my knowledge of Eastern European (let alone Czech) cinema is somewhat lacking to say the least, I read all these factors as a SIGN for me to pick this shit up. And that I did.
I'm not familiar enough with their national cinema to know whether this "best Czech film ever" tag is accurate or not. But I feel confident in throwing this in amongst the best that I've personally come across – which probably has something to do with it being the single most challenging experience that I've had with a film to date (David Lynch included.) Marketa Lazarová is a devilish fiend in the pantheon of great cinematic works. It claims to be a historical epic, but to allow any preconceptions to infiltrate one's mind as a result of this would be a grave mistake indeed, for it's simply one of the ways in which the film defies audience expectations. The back of my DVD cover sums the plot up as thus: "...it follows the rivalry between two warring clans and the doomed love affair of Mikoláš Kozlík and Marketa Lazarová." This sentence is arguably fraudulent however, as the notion of a 'plot' is irrelevant in a film that adheres to the creation of mood and tone as its driving narrative force.
Marketa Lazarová is a challenge precisely because of this last fact. It confronts the viewer with that which is (probably) unfamiliar: an incoherent structure that cares little for traditional dramatic development, instead manipulating soundscape and imagery as if to reinforce its mysteries. The film is divided into twelve 'chapters', complete with inter-titular headings that guide our quest for scraps of information. This, curiously enough, fails to provide any semblance of thematic congruity due to Vláčil's decision to allow these divergent threads to run wild – an act that creates tension within itself. Furthermore, he obliterates our ability to relate completely with what's on-screen thanks to his frequent use of flashbacks, narration and off-screen conversations in order to distort our perceptions of the filmic past and present. Numerous characters come and go, their voices (and selves) unidentifiable because of the aforementioned distortions, and we're left with a myriad of overlapping relationships that run a daunting gamut of emotions but nonetheless take us even further outside of our comfort zone.
If what's been described thus far sounds offputting it's felicitous, for Marketa Lazarová never strives toward anything but. It's primary concern with the brutality of the Middle Ages combines with Vláčil's bold disregard for the machinations of convention to create what is perhaps the most frightening world that I've ever encountered. The result of the director's experimentation is to force our gaze upon the cinematic image, which is the primary source of his film's harrowing strength. Vláčil has a painter's eye for composition, but a film historian's conception of affluence: his employment of deep-focus shots, nigh-on montage editing, painfully intimate close-ups and sinuous camerawork combine to leave an indelible impression. In terms of it's visual magnificence, think Tarkovsky's Andrei Rublev with much heavier doses of the ominous, sinister and brooding. Marketa's visual coherence actively complements its narrative incomprehensibility as Vláčil's artificial engineering succeeds in ironically bringing us closer to the reality of the setting: his fearless re-creation of environment and his refusal to pander to his audience instils in us the confusion and terror that we'd feel if we actually were magically transported back to 13thC Czechoslovakia.
Marketa Lazarová's themes and ideas are understandably difficult to fathom, and I don't really wish to decipher them although there's certainly substance underneath the style. There's a seething undercurrent of paganism that forms a diametrical opposition to the Christian forces within the film. Upon first glance, Vláčil plays this as a spiritual dance between organised religion and the natural world, but after only one viewing it's too early to comment definitively on this. Anyway, the most resounding theme is surely the utter lack of humanity in this unforgiving climate. From the animalistic moans that permeate the soundtrack, to the recurrent images of a pack of wolves, carnivorous in their lust – Vláčil goes to lengths to denigrate his characters to the level of mere beasts. He succeeds, and what we're ultimately left with is a gargantuan and uncompromising vision, a provocative mood-piece that stimulates the senses whilst shattering (yet also illuminating) our knowledge of both cinema and history. I mentioned earlier how Marketa Lazarová wants us to believe it's a historical epic – I hope by now that it's become apparent that this is more akin to a nightmare-on-film. The difference with this one is that I fully intend to keep going back for more.