Having popped back to my parent's house for a week or so over the festive period, it struck me that we have terrible internet performance – latency isn't too bad, but there's a severe lack of bandwidth. The basic history of our connection is that we were ADSL enabled in 2001 or 2002 and haven't changed anything since. In other words, we aren't even on DSL MAX and our exchange won't be ADSL2 enabled until the end of march at the earliest. I have subsequently changed our internet plan so we will be on the former within a week, and the latter when it arrives, but thats not the interesting thing here – getting our internet to be 3x faster without changing hardware or pricing plans is.
Hardware Background
There are a variety of different phone setups in houses around the UK – most people whose phones have been connected since 1981 and before 2007 are using an NTE5 variant box. This looks like: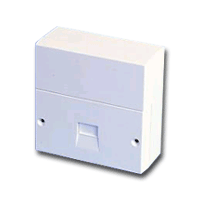 This is a master socket, and all your other phones are daisy chained off it. In networking terminology you have a bus network! Usually your connection on these phone networks is mainly dependant on the line between your exchange and the house. Our network however is a spurred connection. We have a small black box outside the house, from which wiring goes to different parts. There is a master socket, but it is a LJU2 Master socket, which looks like:
Ie, like a normal slave phone socket. Its still a master socket, however, since it has a capacitor in, but it doesn't have any of the conveniences of the NTE5, such as the test socket. Our phone lines are connected like a star network, which has the positive that it doesn't matter so much about plugging your router into the master socket, because you aren't daisy chained off of it, but the downside that you are more likely to get local loop interference.
BT Connections
BT try to offer you the faster stable line connection that you can get, they do this by repeatedly reconnecting your DSL line at a lower speed until it stops throwing lots of errors. Once this process had finished for us, our connections speed was down to 640kb. Usually this took 4 reconnection attempts.
Telephone History
An interesting sidenote of the the rollout of telephones in the UK as opposed to other countries is that in addition to the two phone wires in your phone sockets there is also a ring wire. This is only used by pulse dial phones, rather than tone dial phones and is consequently useless if you are using any vaguely recent phone! The fact that this piece of copper wire is sitting there around your house and thats its potentially huge – my parent's house isn't particularly large but our telephone wire goes around the outside of the house and all over the place – means that it acts as a massive aerial! Your telephone line, especially if its a spurred design, is picking up a huge amount of interference. This essentially shits on the telephone connection. Its probably not that noticeable for voice calls, but it can cause a lot of errors for ADSL systems and consequently cause reconnection at a reduced speed.
Solution
The simple solution is to disconnect the ring wire from all your telephone sockets. If you have a spurred design then you need to do this at every connection, if you're using an NTE5 then you only need to do it once. There are detailed instructions at the bottom of this page on rewiring.
For our internet it made a huge amount of difference. Having unwired all 4 ring wires our stable connection speed has gone from 640kbit to 1984kbit, more than 3 times faster. When you consider the maximum connection speed at the moment is still only 2mbit and we aren't that close to our exchange thats pretty good. Because ADSL MAX and ADSL2 are both dependant on signal strength in order to get optimal performance, its likely that the benefit of this operation will be maintained after the changeover and I'll probably measure this once its installed, I'm inclined to strongly recommend this approach to anyone using ADSL who has a star wiring setup.