So, the question is …
Which fictional Character would make the best Labour Leader?
1. The Terminator
Noted for being tough on immigrants (from the Future, role on South Park esque, "They took our jobs", "De der dee derp" quotes), tough on crime, and a definite moderniser of the human form. Perhaps his biggest political risk is his pro 'Going back in time and killing large swathes of people' policy. Something that has been caught on camera more than once. The bookies rate him as a strong candidate for leadership mainly due to his tenacious nature, as symbolised by his trademark catchphrase, "I'll be back" which he utters whenever he looses some form of election.
2. Dorothy Michaels
Thats right, the female character that Dustin Hoffman dresses up as in Tootsie. I hadn't forgetten about her, have you? Since hearing Mr. Blair's recent speech about political cross dressing, those political manipulators extraordinaire at Newscorp have putting their thinking caps on. Unfortunately no one at Sky News has a high enough IQ to understand metaphors, so this is what they have come up with. By and large unpopular with the electorate, a recent poll suggests that the three sentences people most associate with her are, "Who the hell is that?", "Is that Dustin Hoffman, he's really let himself go!" and "Pervert!" May stand a chance at winning the election due to the media power of the Murdoch empire, won't get the oppotunity to since she has no hope at the leadership contest.
3. Colonel Walter E. Kurtz
An experienced war veteran who died over 25 years ago. Kurtz has potential as the strongman that the Labour party desires and is seen as more 'human' than the Terminator. In a strange move, a lot of anti-war protestors seem to be backing him, since they seem to interpret his expression, "The horror, the horror" as a response to the Iraq war, rather than Cherie Blair's face.
4. Lion-O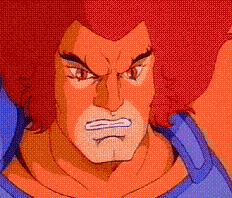 The final candidate is on the list is a thundercat, just to break the white male/robot/cross-dresser stereotype that been established. Lion-O's ability to use the Eye of thundera to give him Sight-beyond-sight is seen as a strength, in light of the war of terror. Some privacy advocates believe that legal curbs should be put on its usage, however. Despite strong support amongst Labour back benchers there is cabinet opposition, due to the belief that Mumra 'The everliving' might strike down on the Labour party with all his/her/its? wrath. A recent poll also suggested that his political advisor, Snarf. didn't go down well with party members, some labelling his repeated use of the word, Snarf as 'stupid'.