Crumpets Saves Lives
A few weeks ago Chris was warming up some crumpets for tea on his grill. Little did he know that cooker had a wiring fault and wanted to murder him!
Time for some GCSE Physics again: A wiring fault had basically caused the live terminal to reach the whole metal outer case. Normally in this circumstance, the power would be pulled down to earth, large currents would be drawn and a fuse would have blown, all within a split second of turning the grill on. Unfortunately and shockingly... the cooker did not have an earth wire and nor do most other cookers in question! (If you live in Claycroft, I recommend you eat out - always).
So the cooker case was nicely floating at 240V AC. Touching this alone would have been fine, but the nice stainless steel metal kitchen work surfaces are earthed. This gave Chris an electric shock when he touched the two potential differences! Fortunately, he had two series resistors to limit the current - these came in the form of two crumpets, one in each hand.
The problem averted thanks to the crumpets, but Chris is a scientist and he had to make sure it was a fair test which is explained in the cartoon below: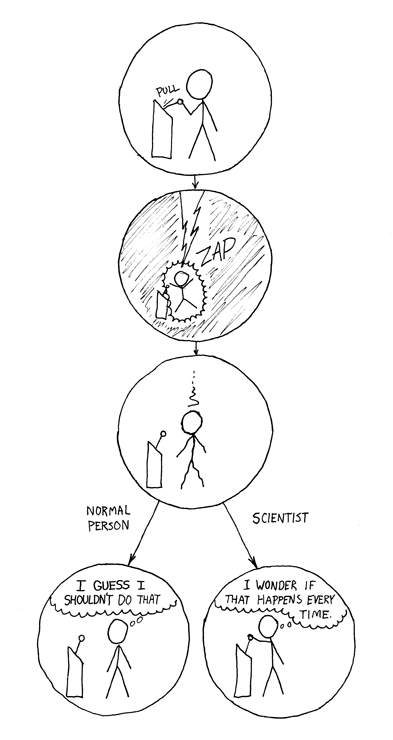 Source: http://xkcd.com/242/
The second one threw him back :S