All entries for Sunday 26 February 2006
February 26, 2006
For a while now, the
NIC
on my laptop seems to trickle uploads at 500k/bits instead 80–100M/bits over
LAN
. This has made copying videos and pictures of the network a mammoth task. The problem comes and goes without any environmental changes. I think its a hardware problem. The downloads come down at a nice 70meg, its just it like to trickle the uploads. Its driving me insane.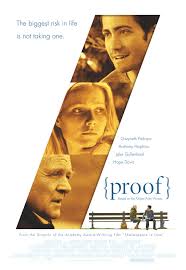 Title:

Rating:
Went to see this at the Apollo with Laura last night, and I still don't actually know what to make of this movie. Its not actually about Maths, but psychological problems and emotions. About a famous Mathematician "Robert" (Anthony Hopkins) and his daughter "Catherine" (Gwyneth Paltrow) as they both come to grips with insanity and being a maths genius. And Jake Gyllenhaal runs about a lot.
Its a small cast and I think this movie would be much better if it was still in its play form. Don't get me wrong I still think its good, its a movie/story I can typically imagine my mate Alistair analysing in a 30,000 word essay: the older sister Claire showed little emotion towards her father's death because she had lost the sympathetic touch with him because he was insane for the past 8 years... Overall it may have too complex for me on a saturday evening. It is a very different movie than the normal emotional stuff.