All 3 entries tagged Presidential
View all 5 entries tagged Presidential on Warwick Blogs | View entries tagged Presidential at Technorati | There are no images tagged Presidential on this blog
January 10, 2008
Diebold Voting Machine Contractor Executive Has Criminal Background
Company responsible for machines throughout New Hampshire directed by convicted drug dealer
Steve Watson
Infowars.net
Thursday, Jan 10, 2008
It has been revealed that a high ranking executive at the company that was contracted to program all of New Hampshire's Diebold voting machines has a criminal record and has previously defended the illegal act of "swapping out" memory cards for the machines during live elections.
The revelations, which were uncovered by investigative journalist and vote fraud expert Bev Harris of Blackboxvoting.org and announced yesterday on the Alex Jones show, once again plunge Diebold and the controversial electronic voting systems into the spotlight.
Harris reports that Ken Hajjar, the Marketing and Sales Director at LHS Associates was arrested, indicted, and pleaded guilty to "sale / CND" (sale of controlled narcotic drugs) and sentenced to 12 months in the Rockingham County Correctional facility, and fined $2000. As things go for the politically connected, he was then given a deferred sentence and $1000 of his fine was suspended.
LHS Associates is a private company that counted over four fifths of the New Hampshire vote with no oversight whatsoever and also holds Diebold contracts for Connecticut, Massachusetts, and Vermont.
Harris exclusively revealed some of the details on the Alex Jones show yesterday as she was still awaiting triple confirmation on the information and a full copy of the criminal record from a source who was investigating Hajjar regarding a separate matter.
"They program every single voting machine in New Hampshire, Connecticut, almost all of Massachusetts, Vermont, and Maine." Harris comments. "But did state officials in five New England states ever do a criminal background check on this company's executives? Do the laws of these five states even ALLOW them to hire convicted criminals for services paid for by the state? What about over 500 local towns and municipalities?"
The story becomes even more compelling given comments made by Ken Hajjar himself in a recent interview as he revealed that he totes memory cards around in the trunk of his car and defends the concept of swapping out memory cards during live elections!
Other LHS staff members we spoke with, including Mike Carlson and Tom Burge, provided similar comments. They said they would open machines up during an election and swap memory cards as needed. This is illegal under Connecticut law and Deputy Secretary Mara told us she has since informed LHS that such actions were in violation of Connecticut election laws.

"In 2006, as Hajjar argued in favor of their policy to change cards during elections, I asked him about about the laws which govern chain of custody issues. His response: "I mean, I don't pay attention to every little law. It's just, it's up to the Registrars. All we are is a support organization on Election Day".

He said he had three memory cards in the trunk of his car and, in the event they had to be used, the chain of custody issues wouldn't matter since, "once you run the [pre-election] test deck through, you're golden"."
Bev Harris has also asked for complaints filed on a threat allegedly made in recent years to a New Hampshire woman, and any other reports for Hajjar or LHS owner John Silvestro. The pair grew up together in Lawrence, Massachusetts before moving to Londonderry, New Hampshire.
As we detailed in our report on Tuesday, John Silvestro has been at the center of a long-running public dispute in trying to deflect accusations made by hacker Harri Hursti that the voting machines are wide open to tampering and can easily be rigged.
Video of John Silvestro as he tangles with Harri Hursti recently surfaced on the web:
The Hursti/Silvestro saga formed the centerpiece of the recent 80 minute HBO film "Hacking Democracy".
The new revelations concerning LHS may prove even more explosive in the wake of Tuesday's New Hampshire results vastly differing from the pre-election polls and the emergence of clear widespread evidence of vote fraud involving the machines.
If the allegations are accurate, it won't be the first instance of Diebold employing a convicted felons to run its ballot printing operations.
Harris previously revealed that an embezzler named Jeffrey W. Dean, who specialized in sophisticated alteration of records of computerized systems, was a programmer of voting systems.
Dean was the senior vice president of Global Election Systems and a director of the company previous to Diebold's takeover in 2002. Despite Diebold's claim that Dean left the company when they took over it was later revealed that they retained Dean as a consultant.
Dean and his prison buddy John Elder, who did five years for cocaine trafficking, ran a ballot plant on the West coast and were also responsible for writing vote tallying software. Harris' research has further shown that Global Election Systems/Diebold vote machines were specifically built to allow tampering.
"It's weird, these guys are not even allowed to vote because they are convicted felons!" Harris commented yesterday.
January 09, 2008
New Hampshire District Admits Ron Paul Votes Not Counted

Sutton township reported Congressman had zero votes, actual number was 31
The head clerk of the New Hampshire town of Sutton has been forced to admit that Ron Paul received 31 votes yet when the final amount was transferred to a summary sheet and sent out to the media, the total was listed as zero. The fiasco throws the entire primary into doubt and could lead to a re-count.
As we reported earlier today, an entire family voted for Ron Paul in Sutton, yet when the voting map on the Politico website was posted, the total votes for Ron Paul were zero.
Vote fraud expert Bev Harris contacted the head clerk in Sutton, Jennifer Call, who was forced to admit that the 31 votes Ron Paul received were completely omitted from the final report sheet, claiming "human error" was responsible for the mistake.
Two or three votes not counted could be a plausible mistake - but 31 votes for one candidate?
"The classic method for rigging a hand count is to write the wrong number on the form," Harris told the Alex Jones Show.
"They are counting everything in public real nice, they fill out a form in public real nice and then they transfer it to another form and they call that a summary sheet and then that is the one they send in," explained Harris.
"What happened is she said they did not transfer the number correctly and put zero instead of 31 - that is unacceptable as an answer."
With 100% of precincts now reporting, the map originally listed zero votes for Ron Paul as you can see below. It has now been updated to reflect the 31 votes Paul actually received.
The remainder of the 31 people in Sutton who voted for Ron Paul need to go public immediately with the charge of vote fraud and make it known that they were cheated out of their right to vote.
Harris estimates that it could cost the Ron Paul campaign as much as $67,000 dollars for a recount, but such a move could throw the entire primary into doubt, especially in light of the fact that Barack Obama appears to have been cheated out of a win by Hillary Clinton.
November 28, 2007
This is the extended edit of an article I wrote for today's Warwick Boar (unfortunately they didn't seem to receive my emails with the new version!):
Why things will get worse in the US under Hillary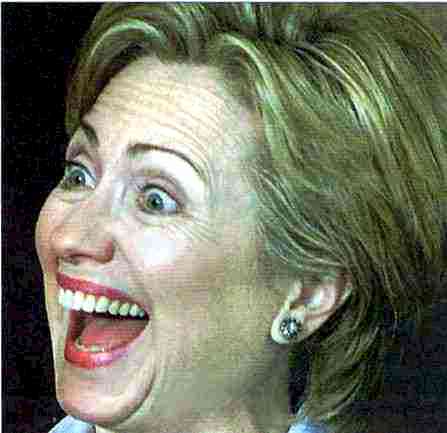 Bush – Clinton – Bush…..Clinton? If Hillary Clinton wins the presidency of the USA in 2008, the country will have watched the same tag-team tournament for 19 years. It feels like one of those maddening instances of sports coverage where for some reason the game refuses to end, gliding past the surrendering boundaries of the TV schedule, and while you bemoan the futility of it all the commentators get more and more worked up about how immensely exciting it is. I wish the crowd would just stand up and do that chant, "Blow the f-ing whistle, blow the f-ing whistle…"
By the most recent estimates Hillary Clinton holds a massive 33 point lead on her closest Democratic competitor, Barack Obama, and she has raised more money for her campaign (over $90 million) than all the Democratic and Republican candidates combined. Given that the Republican candidates are, with the exception of grassroots contender Ron Paul, such unapologetic, unrelenting warmongers at a time when a majority of the public is solidly against the Iraq war and the Republican administration, the surely nominated Hillary will go up against an unelectable Republican ticket.
Hillary's recent rhetoric over the Iraq war (a "grotesque mistake" and a case of "mismanagement") is, sadly, convincing enough for a large constituent of faithful Democrats, despite the fact that she voted for the war and backed it for 3 years. They don't recognize the couched complicity of her position that US forces must persist in Iraq until there is a "unified government". As one Newsday columnist Jimmy Breslin described it, "she sneaks and slithers past you with her opinion on a war that kills every day." Hillary has said that she if she wins the presidency she won't take US troops out of Iraq even by 2013. Journalist Ted Kopel recently told NPR that she has also admitted that troops would be in Iraq at the end of her second term – that's 2018.
Mrs. Clinton is also encouraging a more hostile policy towards Iran, suggesting military force and criticizing Bush for not being aggressive or hasty enough in branding the Iranian Revolutionary Guard an "international terrorist organization". She really is stretching her hand up highest in a class full of war hawks. Accordingly, the "defence" industry has now publicly abandoned its allies in the Republican Party and is backing Hillary.
Of course, it is not so much Hillary's policies that ensure the success of her campaign as her celebrity status. The lasting sympathetic picture of a wronged yet strong wife, the exciting prospect of a female president, the accolade of "experience", all of this has distracted the public from the question of whether Hillary would actually offer the country a departure from the Bush/Cheney administration's imperialism, domestic authoritarianism and unaccountability. I dread Hillary's success in 2008 because she will, on the contrary, "stay the course", with the added problem that Democrats who would usually stand up to the moronic menace of Bush will feel less inclined to stand up to the "liberal" autocracy of Clinton.
Still, some liberals know to jump off the bandwagon when Rupert Murdoch jumps on. Murdoch, the chairman and CEO of News Corp and an open cheerleader of the Bush administration, hosted a fundraiser dinner for Mrs. Clinton last year.
"But isn't Murdoch a conservative and Clinton a liberal?!" we instinctively cry. No. In fact these labels have been spun past the orbit of recognition. Both Murdoch and Clinton favour big government and imperial war, same as the Bush administration. Bush the "conservative" borrowed over £1.05 trillion from foreign governments and financial institutions from 2001-2005. That's more than the accumulated borrowings of all previous Presidents.
Hillary will now inherit much newfangled machinery of state corporatism from the Bush years, for example the sprawling Department of Homeland Security, whose internal records show that 0.0015% of cases they deal with are actually terrorism related, and the "New Freedom Initiative", a Big Pharma program of compulsory mental health tests for all children and eventually all adults. Similar developments will no doubt accelerate with Hillary in the White House because she has even fewer inhibitions about promoting Statism.
Corruption of power and the power of corruption will always saturate the political process but they are made less of a threat by a) tying the hands of the government's executive branch and b) anticipating the accession of politicians with compromised or dubious track records. Here's the current situation:
a) The current members of the executive have casually declared themselves unaccountable to Congress; Cheney even announced that his office is independent of the executive. This is additional to the dictatorial powers provided by congressionally approved legislation, for example the Military Commissions Act of 2006, which completely erases "habeas corpus" (the most important constitutional safeguard of personal liberty), and the Defense Authorization Act of 2007, which allows the President to declare martial law autonomously.
b) The Bushes and Clintons are utterly compromised politicians and businesspeople (extending beyond booze and blowjobs). They're even personally affiliated. George Bush Snr and Bill Clinton are good friends and Barbara Bush calls Clinton a "surrogate son". Perhaps the drug smuggling operations through Mena in the '80s provided some common ground. Or maybe Bush, as a former CIA director, was especially forthcoming to Clinton on account of his work for the CIA while at Oxford University (and conceivably beyond).
Within the inscrutable world of such connections, the most intriguing insight into the current political game in America is provided by Carroll Quigley, Bill Clinton's Georgetown mentor who helped get him the Rhodes scholarship to Oxford. Quigley wrote candidly in his encyclopedic "Tragedy and Hope: a History of the World in Our Time" that he was permitted in the early 1960s to examine the records of "an international Anglophile network" working through round table groups and cagey front organisations like the Council on Foreign Relations (whose select membership includes Fortune 100 CEOs like Rupert Murdoch, bankers, and politicos like Henry Kissinger, Irving Kristol, Dick Cheney and the Clintons) to "create a world system of financial control in private hands, able to dominate the political system of each country" in a "feudalist fashion".
Quigley wrote that in US politics "the two parties should be almost identical, so that the American people can "throw the rascals out" at any election, without leading to any profound or extensive shifts in policy". This is exactly what we are seeing.
Enough with the phony pro-wrestling, the American public need to get in the ring and blow the whistle themselves.