Harry Potter and the Nonsensical Movie
Title:

Rating:
Let me start this by saying that I enjoyed the previous three Harry Potter movies which were thoroughly cogent and self-contained pieces of celluloid. Harry Potter and the Goblet of Fire is not a standalone movie and the Director fudges up the editing job so badly, half the audience (the people who never read the books) will be sitting in their seats wondering what in the hell is happening.
Spoiler Alert
It certainly doesn't help that the best of the young actors in the film are the Weasley Twins and Cedric… it doesn't help that the former don't get enough screen time whilst the latter sort of dies, probably precluding him from subsequent roles… goddamnit.
So what does the director get wrong?
1) His editing process: My problem with this is probably best summed up in this pic from Maddox's The Best Page in the Universe :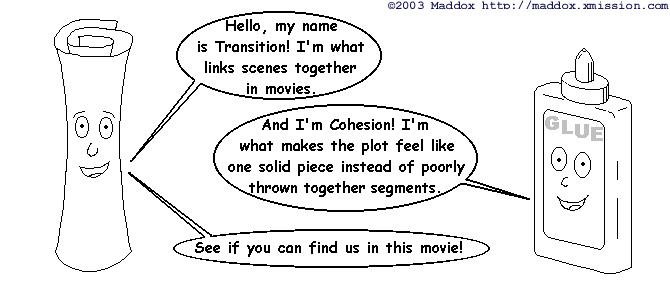 I'm not going to bother going through a scene-by-scene summary but you'll often find yourself lost amid the insane scene-jumping that goes on in the film. Go watch it and you'll see what I mean.
2) Dumbledore: Richard Harris was absolutely perfect for the role of Dumbledore in the first two films. It's a shame that death sort of robbed him of his ability to act, but his replacement, Michael Gambon – one of Britain's best actors – is clearly not well-cast. He has not been able to achieve the same perfect combination of stern headmaster, old mentor, good-humoured, intelligent friend and a sort of mischievous father figure for Harry who has the classic wink wink nudge nudge part of British culture down to a T.
Gambon isn't even able to create the same commanding presence that Harris was able to create. When aiming for Gravitas, he seems to be filled with a murderous rage. When aiming for anger, he randomly descends into an Irish accent. Please, as much as I admire Gambon, find someone to replace him!
3) Harry, Ron and Hermione: ARGH. It seems that their combined acting ability has deteriorated over the course of the four films.
Harry Potter: The actor's idea of adding fear, anger, love, hate, suffering etc. to any scene is just to breathe heavily. For about half the film he appeared to be imitating an asthamatic in desperate need of a ventilator.
Ron Weasley: Faux Cockney Whinger. "Oh 'Arry. I'm not going to turn out gay. But I'm pissed off coz you did something without telling me… and when we get married in the future and I'm in the house doing the washing-up all weekend and you're out drinking with your mates, I'll be the same whiny bitch I am now."
Hermione: Really, really overdoes the Posh Public schoolgirl bit. To the point where I just want to beat her with Harry's broomstick.
And what does the director get right?
1) Cedric and the Weasley twins: as previously mentioned these three are among the only young actors with lines who could actually act. And I'm not just saying that because I used to go to the same school as Rob.
2) Some great adult actors: I don't have to trott out the names but Snape, Draco Malfoy etc. – Keep bringing in those excellent British actors!
3) Some of the special effects are in the right place – I thought the underwater scene was pretty good, as was the dragon chase scene (where continuity allowed).
4) It's set a low bar for The Order of the Phoenix to fly over. (Ouch!)
So in the end, a seriously flawed film, but one which is enjoyable when vaguely contiguous. It was disappointing that I had to go to read the book in order to understand the movie. Probably a lot more enjoyable for fans.