Leeds Festival 2006 – Thursday
Ah, the Leeds Festival, a chance to see bands, stand in a field and indulge in the ritual group shouting of "BOLLOCKS!" Truly I have no greater purpose on this earth. Here follows a true and only mildly hyperbolic account of how I came to have sore calf muscles, a bad cold and a head full of the music. Yes.
Thursday 24th August 2006
The plan was quite simple, get up and be ready to leave for 11.10am. We'd then arrive gracefully and set up our tents before drinking fine ales and recounting stories of a convivial variety. My brother, henceforth referred to as Kyle, as this is his name, thought that 9am would be a good time to get up.
9.15 I am aware of the time but am undecided as to whether I want to get up. I don't.
9.30 Just five more minutes.
9.45 And by five I mean fifteen. But I'm up. Just.
10.15 Time to try on my festival shoes, my Doc Martens boots which I don't seem to wear that much for some reason.
10.15.30 Owwwwwwwwwwwwwwww, the PAIN! Ok, that's why I don't wear them! They hurt.
11.30 Richard, our driver, has arrived and we set off. Hurrah! Now we can sally forth into adventure.
12.45 We are making quite excellent progress.
13.05 Bollocks. Traffic jam of doom.
13.24 More doom.
13.42 Doomy doomy doom doom. Have we even moved since 13.05?
14.36 We throw good manners to the wind and cheat by driving in the wrong lane and going round roundabouts several times to get ahead of the queues. It's unethical but when you've been in the car this long ethics are void.
15.15 We're here! We set off to find the tents that the people who arrived earlier set up.
15.15.10 Where are the others?
15.20 Not here.
15.22 Still not here. This is a big arsed campsite, as this photo that someone else took shows:

I wish I hadn't left my camera in Somerset.
15.41 Seriously, where are they?
16.10 Oh, here they are. Right in the middle of the most crowded campsite. At least you can't smell the toilets from here. Anyway, time to erect tent.
16.25 Done. My slowest tent erection time in years. But at least, unlike Kyle and Richard, I've managed to erect my tent successfully and without delays caused by trying to use components from two differently shape tents. They respond by nicking some of my tent pegs.
16.40 Yey now I have a Greek flag. Kyle points out that a nearby tent to us has the phrase "Greeks get out" written on it in gaffa tape.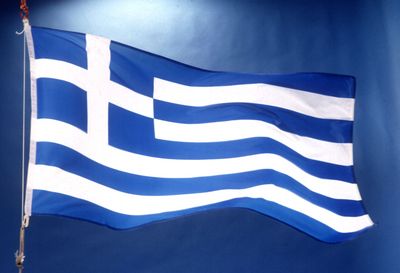 17.30 Back to the car for the rest of the stuff. I have my evil Doc Martens and a bag of food. Kyle and Richard have about 28 bags. Each.
19.23 Walk past a tent which is making Street Fighter noises.
19.40 Go to arena for the lowkey first night entertainment. There's a band on in the Comedy and Cabaret Tent. They're called the Quiet Kill and spend the five minutes we watch them ending a song. Or maybe that is the entirety of the song. Or the entirety of the set. Just big, cymbal landen endings. Whatever it is, it's shite so we leave.
20.57 The men in the next gazebo are singing pro–Lancashire songs. They'll be lucky not to get set on by the locals if they keep that up.
22.10-22.25 Search for extra blanket. It's freezing! However I am wearing my torch glasses (like the Orbital wore) and have a great time watching the people I walk past look on in amazement. Or fear. Comments include "It's the Terminator", "Mind the headlights", and one somewhat fearful girl saying "It's coming right for me".

The Orbital glasses in action... on the Orbital.
22.31 The people in the next gazebo have assigned most of our group new names. I am R2D2 for the glasses. There's also Anastacia and Pete Doherty. If this was for real that would be a good party.
22.45 Knackered. Bed.