Is Babel A Twit Or A Menace?
Writing about web page http://www.guardian.co.uk/football/2011/jan/09/ryan-babel-howard-webb-manchester-united-liverpool
It seems to be a bit of trend at the moment for footballers to launch their toys directly out of the pram (do not pass go, do not blackmail your club for £200,000 a week) about refereeing decisions affecting Manchester United.
Now obviously in some cases these tweets are just inane and gormless. Wojciech Szczesny, a man who desperately prays every night that he's at Arsenal because he's capable of breaking their crap goalkeeper tendency rather than being another exponent of it, tweeted after the West Brom game about Gary Neville's foul "How can you not get frustrated with decitions [sic] like that going ALWAYS Man Utds way?! Its a clear pen and sending off!". Bless, you cannot really blame him for having completely failed to notice that mere days earlier United had had to settle for a draw after a Birmingham goal which involved a foul, a handball and a marginal offside decision from Brum. Or the many decisions which have gone against United in recent games with Chelsea. It's really not been a particularly good 18 months for lovers of the 'United get all the ref decisions' conspiracy.
Anyway, so Ryan Babel's the latest to have a go, tweeting several tweets (thus expending more effort on whining than he has done playing for Liverpool since they signed him) including this good-idea-poor-execution picture of Howard Webb MBE.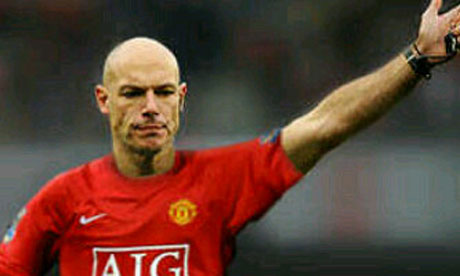 He'd still have been better than half the Liverpool players out there on Sunday.
Now the question is, are the FA right to charge him with one of their arcane rules about saying things and being interesting? They didn't pick on Szczesny, although as he has to play behind Koscielny and Squillaci you have to wonder if this was the FA thinking "He's suffered enough, leave it".
It's tricky, cos Twitter's just a run of ephemeral ramblings, does it matter what people say on there? But on the other hand no one likes it when players rush up and surround the ref, is Twitter another way to harass the official, albeit one where the can't respond with a quick red? Plus lots of people were, rightly, outraged by Glen Johnson's dreadful remarks about Paul Merson on his Twitter page, so is Babel's comment really harmless banter or should it slapped down?
It's a hard one – I hate the media managed, say nothing nature of players, but at the same time I also hate the way they surround and harass refs. Is the post match social media thought-blowout an extension of the pitch or not?