Join me and my New Year's Resolution to go to at least one gig every month of 2009.
Nothing like a grand and slightly out-of-time venue for the slightly unworldly and grand world of Bat For Lashes. There aren't many venues in the Manchester area with chandeliers and golden decorations adorning the wall. And there aren't many pop stars who turn up in a shower of gold paint and curious kitsch stage decorations.
Certainly School Of Seven Bells haven't dressed up particularly strangely for the night in the venerable old Ritz, with it's 'legendary' 'springy' dancefloor. Instead they've decided that they'll do their spookiness via their music. The swooning guitar and keyboard noises generated by Benjamin Curtis and the twins Alejandra and Claudia Deheza, who enticed him away from his previous band, Secret Machines, are more than sufficiently unworldly in a way which evokes a time unfamiliar to most of the audience – an early 1990s shoegaze concert. Not that they had state of the art laptops tapping away in an echo-y manner back in 1991. No, they had real drummers.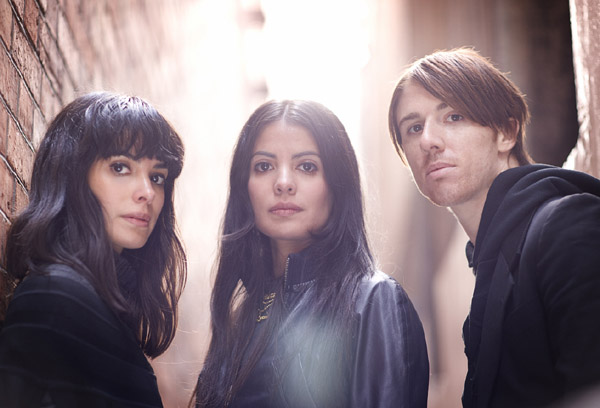 School Of Seven Bells. Bells not pictures.
But a real drummer would only ruin School Of Seven Bells' symmetry, Curtis stood centre stage with a singing twin on either side. There should be more symmetry in music. Wonky musicians will never be as satisfying as a perfectly balance front line. It's why the Manics needed Richey Edwards onstage, to create a neat symmetry of glam bloke-macho bloke-glam bloke rather than supply guitar heroics. School Of Seven Bells have symmetry. Conveniently they also turned out to have some gorgeous songs. Even when they were looking confused at Bat For Lashes' distinctly asymmetrical stage props, they weren't sounding confused. Tight and relentlessly dreamy, they were one of those pleasant surprises anyone who arrives early for the support wants. Setting the scene, drawing us in, and so beautifully symmetrical.
Bat For Lashes doesn't do symmetry. She does trinkets, lots and lots of trinkets. Some of her trinkets are borrowed from other bands, New Young Pony Club's drummer, ex-Ash lady Charlotte Hatherley on various instruments and nick nacks. They take their place alongside odd lamps, strange statues and a pile of musical instruments, not all of which were in a mood to function.

Miss Bat.
Natasha Khan, is a shy girl. Hiding behind her musical alter ego Bat For Lashes, and on new album Two Suns her psychic opposite, a character called Pearl who amounts to Khan in a blonde wig, Natasha herself is quite shy. Very shy. And there's nothing worse for a shy person than watching your carefully assembled equipment throw a hissy fit. For Khan it's her synth which refuses to play ball. Sitting at it her discomfort is quite clear but such is her shy charisma that the audience peer anxiously rather than fidget, uninterested. There's something about her demeanour which encourages affection in her crowds, many of whom are wearing the paper masks handed out by the street team before the gig. When she nervously sighs into the mic "Can anyone make a harpsichord sound?" the audience is laughing with her and willing the roadie in attendance on to fix the bug as "harpsichord" could only mean one thing – 'Horse And I'.
There aren't enough harpsichords in modern music, a statement which could probably have been uttered at any stage since the reign of Elizabeth I. When Khan brings us her songs she dresses them in clothes which stand out for their inventive eccentricity. 'Pearl's Dream', one of the best things released all year by anyone, marries juddering electronic noise stabs with chiming melodies. The big bass drums of 'What's a Girl To Do?', the digitised outro vocals of 'Two Suns', the shoop-shoop backing vocals of 'Moon And Moon', all little doses of oddness in a time of supposed creative stagnation in many areas of the music industry. The live setting suits Bat For Lashes, even some of the weaker tracks from her debut benefit, 'Sarah' in particular rises from a not particularly gripping three minutes into a bass driven, sinuous creation.

Me, looking really sinister with a lovely Bat For Lashes mask.
Some in the crowd might not have appreciated the second album heavy nature of the set, especially as said album had barely been released but, as it is a more immediate collection than her debut, this appears not to matter to most.
Instead a shy, asymmetrical girl in a headdress wanders around the stage entrancing all in the faded ballroom glory of the Ritz. Even if Khan let the mask slip once or twice, the magic was still there.