All 3 entries tagged Editorial
View all 4 entries tagged Editorial on Warwick Blogs | View entries tagged Editorial at Technorati | There are no images tagged Editorial on this blog
August 19, 2019
Once again, Exchanges is delighted to announce that we're seeking a new member for our Editorial Board, due the departure of some team members. This call is specifically for early career and post-graduate researchers registered with Monash University, Australia [1]. Thanks in part to the ongoing Monash-Warwick Alliance, Exchanges has long enjoyed a wonderful collaboration with members of the Melbourne based university, and it's something I'm keen to continue.
You can download and read the formal call here [PDF], or alternatively chat to some of the current Monash based Exchanges editors for more details. Naturally, you can always drop myself as Editor-in-Chief a line directly (exchangesjournal@warwick.ac.uk), with any questions you might have.
The short version of the call is:
Open to early career or current post-graduate researchers based at Monash University
A 1 to 2 year commitment of time, working remotely
Role supports the editorial review and copyediting stages of publication
Editors also have a crucial role in promoting, commissioning and encouraging new article submissions to the journal
No experience in publishing required, but an enthusiasm for scholar-led publication is essential
Editors have the opportunity to be part of an international editorial board, forge extensive interdisciplinary networks and gain first-hand experience of editorial and publication production workflows. Further details of the role's responsibilities and expectations are available on request.
If this sounds like you, then read the call and then get your application in quickly, because it closes Friday 20th September; although we may close if sooner if a suitable candidate is found sooner. I look forward to hearing from you!
[1] A call for editors from Warwick, is likely to appear later this year.
October 03, 2018
In recent months there have been a fair few changes with Exchanges' Editorial Board membership, with some of my seasoned editors departing for pastures new. This has been largely due to exciting new developments arising within their professional careers reducing the time they had available to work with us. While I'm always sad to part with a member of my team, I can't help but applaud as they move forward to new, exciting and intriguing roles. I can but hope they carry the positive experiences of involvement with our scholarly-led publishing endeavour with them.
Consequently, I've been working in the background to recruit and expand on our team of editors. Welcome aboard everyone, I'm looking forward to a long and productive working relationship with you all! Interestingly, my Editorial Board doesn't just conduct editorial, review and copy editing work. They have an integral role promoting Exchanges as a resource for readers, reviewers and, crucially, potential authors. It's this latter role which saw me meeting with the delightful Mike Haymes of Warwick's European Engagement team this morning.
One of Exchanges underlying aims since I took over as Senior Editor, has been to expand our Board to include more members from Warwick's international partners. For myself and Mike then, this was the crux of our discussions: how we could practically work towards expanding the Board in this manner. The timing of our conversation couldn't have been more apposite, as Mike's about to head overseas for various conversations with our partner organisations. Hence, I'm really hopeful that part of these discussions will help open up some dialogues at some of the institutions that don't yet have representation on our Board between key institutional influencers and myself.
For the journal, this will potentially benefit us in terms of new authors and reviewers, but it will also help us promote the journal to readers who might not as of yet been aware of us. For the new editors, there's a plethora of benefits, not least of which being the advantage of having an editorial board involvement appearing on their professional CV. This is alongside the experience gained through editing a scholar-led title and the opportunity to expand their professional networks, working alongside the editorial team. On top of this for our partners and Warwick, there's benefits from establishing further networks of communication, collaboration and collegiality. Who knows what spin-offs, projects or endeavours might emerge from these? I'd argue it's a win-win-win scenario for everyone!
I look forward to talking more about our expanding Board then, in the coming weeks. Once again, it seems exciting times lie ahead for Exchanges, and the IAS' scholar-led publication activities.
April 24, 2018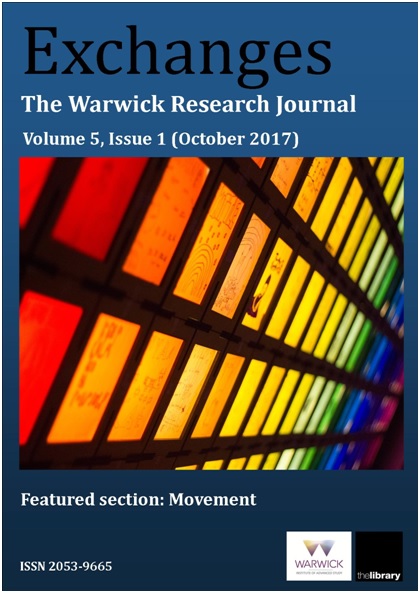 As the title says, welcome to the Exchanges: The Warwick Research Journal blog. My name's Gaz J Johnson, and I'm the fairly freshly appointed Senior Editor of this interdisciplinary, peer-reviewed, open access journal, based in the Institute of Advanced Study.
Exchanges has been around for over 5 years now, and has developed into a valued publishing location for early career researchers (ECR) across the university and affiliated institutions, who are looking for to publish interdisciplinary scholarly material. Over the coming months and years, part of my Senior Editor remit is to expand the journal's focus beyond Warwick, especially with those international organisations with whom we have exciting scholarly links. Hence, I'll be using talking about developments around the title over the coming months.
As my own background as a researcher is as a political-economist and social theorist in the field of emerging publishing modes, especially open access, I'll also be using this blog to muse about developments here as well. Hopefully, this might even engender a bit of conversation and insight from other scholars in this field too.
Alongside this, I'll be highlighting and exploring selected authors and articles from past and future issues. I'm aiming to include a few post-publication interviews with authors as well, exploring how their work's advanced since publication and what additional resonances, insights or impacts it's created.
I'll also be using the blog to highlight various announcements, for example calls for papers and (very shortly) calls for applications to join the Editorial Team. Exchanges has a team of Editors drawn from the ECR community, whose work comprises an essential and much valued contribution to the title. Quite literally, without them, the journal wouldn't exist. We all work in collaboration with the University Library too, who provide insight and technical infrastructure for the title. As a former academic librarian myself, I'm especially excited to be working with the library's scholarly publications team in this endeavour.
Finally, for this post at least, I'll highlight where you can find out more about Exchanges.