Dark Republican
Should we really want another Christopher Nolan Batman film?
As the curtain descends on The Dark Knight, it's easy to be caught up in the nobility of the character: offering himself as a scapegoat, pursued by police dogs down some unpleasant alley, probably pretty tired from all of his Joker-bashing. The onlooking James Gordon explains Batman's self-sacrifice to his son: 'Because he's the hero Gotham deserves. But not the one it needs right now.' In this typical Hollywoodese nonsense, this formulation of credible-sounding obscurity, the contrast between desert and need isn't clear at all: making some utterance with an air of sentiment is all-important, even where there isn't a coherent message therein. There's considerable sleight of hand in this move also, which distracts us from absorbing the implications of Batman's latest actions, which absolve district attorney Harvey Dent: creating a great deceit about the actions of a political figure turned bad, lying to maintain the public perception of an incorruptible justice system. This is literally textbook conservatism – the practice is cited in Plato's Republic– but there's more at stake here than factionist name-calling. Over the course of his films Christopher Nolan has had substantial and chilling things to say about control, power, capitalism and restrictions of human freedom.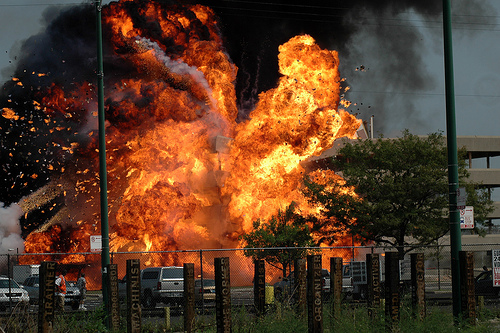 Does any character champion the rich, white man as Batman does? His response to the injustice following the death of his parents is a Great Tour of Asia, from which he can safely return to an inherited fortune. Returning to Gotham City in Batman Begins, he sets out with a vague desire to crack heads, a goal to be realised with the assistance of expensive gadgets. There's nothing to indicate that the World's Greatest Detective is smarter than you are, he just has a better phone than you do.
Sympathetic with privilege, Nolan reinforces the idea of a tiered society with his Batman. The myth of Batman's creation in DC comics centres on the death of Bruce Wayne's parents in a mugging; a crime that is terrifying for its seeming randomness. But in Nolan's telling, the mugger is affiliated with crime lord Falcone, evidence of the remarkably rigid social-structure in Nolan's vision: either you're a criminal and you're part of a big gang of criminals, or you're a wealthy Gotham socialite, or you're a servant who knows his place like Alfred/Lucius Fox, or you're one of the faceless hordes in the middle. Nolan is least interested in the last of these groups; when he does depict the average Joe it is unflattering: (s)he is weak, takes bribes, contemplates blowing up a boatload of people to save his own ass. In turn this validates the patriarchal Batman with his stern hand of discipline. The weakness of humanity, coupled with the threat of insane criminals, allows Batman to bestow himself with imperium, consulting no-one as he assumes power to do whatever he sees fit. This leads most troublingly to the climax of The Dark Knight, in which Batman has rigged the cellphone network so that he can spy on the entire city.
In The Dark Knight, Lucius Fox is on hand to raise objections to Batman's surveillance network, but evidently the tactic resonates warmly with Christopher Nolan, who follows that film by focussing more centrally on extraordinary intrusions into human privacy and freedom in Inception (2010), in which a team infiltrates the unconscious of a scion, manipulating his dreams to persuade him to break apart the energy conglomerate he has inherited, in honour of the grand pursuit of capitalism.
Perhaps this is small potatoes compared to the torture-porn mentality at the heart of the latest Batman incarnation, in the interrogation scene, and more broadly in Nolan's manipulations to make his viewers really want Batman to Settle the Joker's Hash. Depressingly this mode has thrived in main-stream entertainment in the last decade, probably best demonstrated by the long-running success of 24, whose tactic was repeatedly to scare and threaten its audience into wanting Jack Bauer to offer relief by hurting people in imaginative ways. Thus the post-9/11 politics of fear and revenge writ onscreen. In Nolan's Batman films, villains are emphatically terrorists, caricatured to pursue only destruction and/or chaos rather than material acquisition. Liam Neeson, Cillian Murphy, and Heath Ledger portray villains excellently who don't want money or power per se, but to end the American way of life. Neeson's Asian henchmen and Cantonese Lau exploit new-millennium America's great and ambiguous fear; the East. As The Dark Knight progresses it loses coherence, even becoming ridiculous in its episodic shifts of focus; but this is in keeping with the random and incomprehensible manner in which popular media have tended to portray terrorism: this is the feared attack, the dreaded invasion.
When Bruce Wayne flies home with Alfred in Batman Begins, he speaks of becoming a symbol of justice and hope. This becomes meaningless because fundamentally Nolan is uninterested in the populace and therefore how they react to Batman. A few wide-eyed children get to meet Batman, but we don't see anyone being inspired or ennobled. This would be impossible because Nolan's Gotham requires a citizenry that is selfish, stupid and scared. Throwing a hand-grenade into this playground gives us the world in which Nolan's Batman is enacted. He works well with a strong origin myth and the inherited gallery of villains, accentuating the Gothic flavourings and choosing the right cast. But I think there are limits to what Nolan's political vision can offer, and it may be time for the world to move on from the kind of fears he plays upon.