All 2 entries tagged Eastenders
No other Warwick Blogs use the tag Eastenders on entries | View entries tagged Eastenders at Technorati | There are no images tagged Eastenders on this blog
March 30, 2007
Two bits of news out this morning, both of which suggest the TV viewer is low down the list of priorities when it comes to deciding what to put on the box.
Firstly, the FA look set to award the rights to the FA Cup and England home games to ITV and Setanta. This despite the fact that the BBC's coverage has been credited with making the Cup exciting again after several years of rubbish. Would ITV have to show the lower-league cup ties that the Beeb have loyally provided over the past few years? And if they're paying so much more (£400m+) will they have any money left to make the coverage half-decent? The deal leaves the BBC with no live football outside of the Euro 2008 and the next World Cup, which with their range of talent must be pretty annoying. Gabby Logan – who moved from ITV recently – must be kicking herself.
Secondly, the BBC are mulling plans to show EastEnders five nights a week. I don't think they understand why people have stopped watching the show over the years (it used to get around 16m people regularly, now it gets about half that). People stopped watching because it's too big a commitment. Ask viewers what they really want and they'd probably ask for fewer episodes of higher quality. Even the show's producers are against it, but the Beeb want to squeeze some more milk from the ratings cow. Laughably they're undertaking a "feasibility test to assess the impact on the production schedule", but don't appear to be researching what the viewer actually wants.
Media 2, Viewer 0.
December 23, 2006
Why do we like depressing ourselves at Christmas? Millions will watch soap operas and dramas for a festive dose of death and destruction. And as if they're not bad enough for the other 350 days of the year, those scriptwriters love to turn the tears up to 11 in late December.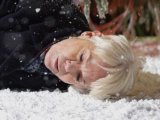 I'm reliably informed that Pauline cops it in EastEnders. Josh pops his clogs in Casualty. Some bloke goes the same way in Emmerdale (apparently).
Now I can understand why drama writers want to make the soaps more dramatic at Christmas. But why does that seem to mean the tears have to flow all the time? Doctor Who's shown that you don't need unhappy endings every week to keep people gripped.
I stopped watching The Bill a few years ago when the writers forgot that characters didn't have to be shot/stabbed/murdered in order to be written out. This blood-thirst seems to have spread.
Maybe falling audience figures aren't because of games consoles, the internet and Digital TV but because the most realistic drama on the box is set in a Tardis.