Why do we like depressing ourselves at Christmas? Millions will watch soap operas and dramas for a festive dose of death and destruction. And as if they're not bad enough for the other 350 days of the year, those scriptwriters love to turn the tears up to 11 in late December.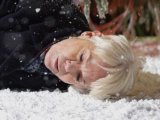 I'm reliably informed that Pauline cops it in EastEnders. Josh pops his clogs in Casualty. Some bloke goes the same way in Emmerdale (apparently).
Now I can understand why drama writers want to make the soaps more dramatic at Christmas. But why does that seem to mean the tears have to flow all the time? Doctor Who's shown that you don't need unhappy endings every week to keep people gripped.
I stopped watching The Bill a few years ago when the writers forgot that characters didn't have to be shot/stabbed/murdered in order to be written out. This blood-thirst seems to have spread.
Maybe falling audience figures aren't because of games consoles, the internet and Digital TV but because the most realistic drama on the box is set in a Tardis.