Hmm… Jaffa cakes.. It's truly amazing how these things get addicting..
You might think that this sentence above is a misuse of punctuation, topped with the little cherry-on-the-top-of-the-cake useless topic that should appeal to the general public to create a misterious start of blog that lures the general reader like an insect towards a bug-light, only to be stung by the cruel spark of the realization that this entry is nothing else than the spirit of the blogger: The art of babbling. The art to sit in front of a computer and just allow two entities, the brain and the hands, to work separately to build what is truly a castle built with immaginary bricks, a mansion of nothingness and wasted time.
Anyway, today is another one of those weekends where you simply do not have the slightest will to go out, the littlest will to do something and the faintest idea of where EVERYBODY WENT! NOONE IS AROUND! And on a second and possibly lighter note, I have also been thinking (yes, surprisingly) about going back home for vacation, and how weird that would feel. Yes, for after all you've started living away for the first time and I guess your parents haven't really seen you for a while, and this is their first chance in 8 weeks and I predict it should be awfully akward, yet filled with facts to expose and stories to tell about your 8 weeks at university.
1950's parent mode off
Now everyone might have known me for being quite a passionate man when it comes to doing things, but the collateral side to this is that yours truly seems to get quite annoyed when things don't go quite as they're supposed to go. A blatant example of this is my little UPS adventure, which everyone that knows me has had a fill on, either by me telling the story of simply by rumors of me "switching" whenever I seem to hear the three letter acronym that spells out "Useless Parcel Service" along with lots of raised middle fingers at the UPS trucks that go down University Road once every so often. In fact, i've even made a little work of art to describe my feelings toward that wonderful company that has managed to have my parcel arrive over 3 weeks late: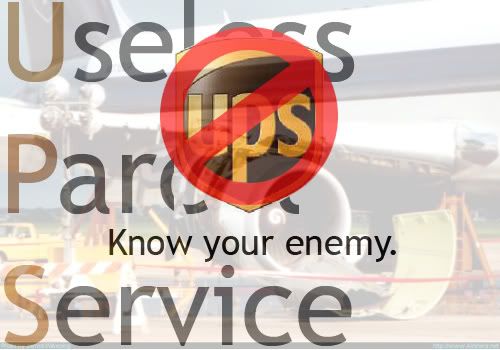 Ah the memories…
But apart from that little incident that occurred it seems as though the new shipping company I use, DHL, seems to have delivered everything properly to my surprise after losing faith in them. Woo-hoo!
I think you readers might have picked out the main idea of this image, and I hope will act accordingly even though I know my opinion is truly worth close to nothing.
Until then, please stick up your middle finger at UPS trucks as they pass please, they deserve it!
Ta-ta,
Carlo