You're Not A Fairy!
So School Days was last night…or however its supposed to be spelt…Skoulch Daiyze, i think thats the 'hip' method of spelling it isnt it? And like a cynical/grumpy wozzak that i am, i dressed up as…chuff all, yep all i did was stick a white shirt and a black tie on, vaguely school attire…though it probably looked like i wanted to grow up as an Accountant.
The strangest thing i saw was quite a lot of people dressed up as a 'fairy'...mainly women i think. Now fair plays you wanted to grow up as a mythogical character, but if they did exist…they'd be hanging their tiny mythological heads in shame at some of the attempts to look like them. For those who aren't down with their fairy knowledge (the creature not the liquid)...this is what they typically look like….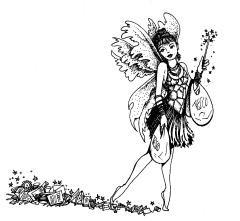 Why is she carrying shopping bags…where do Fairies shop?
So keep that picture in mind…shudnt be too hard to knock out something similar…right? Wrong…we got people at best dressed as this…
Some glitter paint, and a couple of wings dont turn you into a fairy, love.
Come on, put some bloody effort into it women
Right i think i need to calm down a bit.
Until next time ladies and gentlemen…Check Yourself Don't Wreck Yourself!
Ben