All 2 entries tagged Kate Richards
No other Warwick Blogs use the tag Kate Richards on entries | View entries tagged Kate Richards at Technorati | There are no images tagged Kate Richards on this blog
May 13, 2008
It's getting very close to the crunch by now, and you can really feel the tension starting to build in rehearsals. Last night was our first opportunity to run a scene in the studio, and the thing that most impressed itself on us was the enormous amount of space we've got to fill. There's bloody tons of it. Our table is stranded in the middle of it all like a boat caught in a storm – especially so given the new angle it's been placed at to provide better sight lines. Most of the night was spent trying to tease out the blocking we had done in tighter spaces around the table to fill the full breadth of the studio space. It was nice to stretch Valentine's legs a bit, and Kate certainly had a good time making Lady Croom lead Noakes around upstage like a stray puppy.
We were tackling Scene 7, and it wasn't easy going. The nature of the scene's two overlapping time lines make our cues complete non-sequiturs and all the more difficult to learn. But learn we did, and aside from a few line fluffs that will without a doubt be cleared up by Thursday. Jon informs us the night's results were very strong. The trick was not to be afraid of repetition. The way to get a scene like this to work is run it through until it sticks: physical memory is a great help in this kind of situation. The interleaving of different characters' lines and movements in different time periods is starting to look sharp and stunning, particularly the final waltzing sequence between Fiona and Rob, and Matt and Thomasin. I'm quite jealous of their deft feet.
Sam Sedgman plays Valentine Coverly

May 12, 2008
Last Tuesday, the Arcadia cast performed the opening scene of the play at The Art of Directing. Kate Richards, who plays Lady Croom, shares her thoughts about performing for the event half-way through the rehearsal period.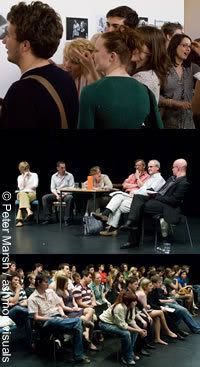 Art of Directing: audience in foyer (top), the panel (middle), audience during forum (bottom). Photography by Peter Marsh / ashmorevisuals.
Performing in any capacity is a nerve-wracking thing, but at least when performing to your friends and peers you have the benefit of knowing your audience and therefore what might be expected. Performing to an unknown group of professionals then, proved more daunting than I had expected, particularly as the show is a work very much in progress. Despite this, it was nice, and very beneficial I think, to perform to a group with such a wealth of professional experience and detached from the productions themselves.
Performing in several of the pieces presented during the evening meant that personally I was very aware of making characterisation even stronger and clearer, and to distinguish totally from any other character I had played for that audience. It was nice to be able to put the scene in the space we will perform in, to see how it currently works within that space, and so that the blocking can be adjusted to make the most of it.
Reflecting on the performance, last night really impressed upon me the need for energy and pace within the scene, energy it is harder to summon on command than to build up through warm up and rehearsal, and the importance of really clarifying the relationships between, and status of, the characters involved. The forum afterwards produced, for me, some interesting comments and gave me a lot to think about regarding the play's text and my interaction with it.
Kate Richards, 7 May 2008