Last Tuesday, the Arcadia cast performed the opening scene of the play at The Art of Directing. Kate Richards, who plays Lady Croom, shares her thoughts about performing for the event half-way through the rehearsal period.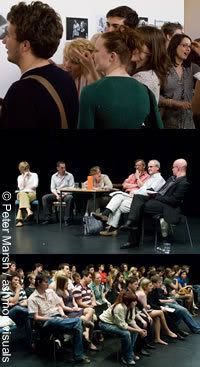 Art of Directing: audience in foyer (top), the panel (middle), audience during forum (bottom). Photography by Peter Marsh / ashmorevisuals.
Performing in any capacity is a nerve-wracking thing, but at least when performing to your friends and peers you have the benefit of knowing your audience and therefore what might be expected. Performing to an unknown group of professionals then, proved more daunting than I had expected, particularly as the show is a work very much in progress. Despite this, it was nice, and very beneficial I think, to perform to a group with such a wealth of professional experience and detached from the productions themselves.
Performing in several of the pieces presented during the evening meant that personally I was very aware of making characterisation even stronger and clearer, and to distinguish totally from any other character I had played for that audience. It was nice to be able to put the scene in the space we will perform in, to see how it currently works within that space, and so that the blocking can be adjusted to make the most of it.
Reflecting on the performance, last night really impressed upon me the need for energy and pace within the scene, energy it is harder to summon on command than to build up through warm up and rehearsal, and the importance of really clarifying the relationships between, and status of, the characters involved. The forum afterwards produced, for me, some interesting comments and gave me a lot to think about regarding the play's text and my interaction with it.
Kate Richards, 7 May 2008