Lagos Portugal 23rd–30th July
So wow this was lovely to the max. It can basically be summed up thusly:
Beautiful beaches (and I mean really beautiful) & tastey picnics on them. Beautiful Bex in a beautiful bikini on it too. Beach volleyball, cool camping where we met cool Irish and Aussie travellers. Banter in the various grungy pubs, a town layout that was like something out of an MC Escher picture. Sardines to die for. Lovely little restaurants especially the Mimar bar run by Marc and Minda (read Mork and Mindy) where we met a lovely older Scottish couple (mainly due to their accents and the man's amazing cheek to cheek moustache, the kind of which you'd expect went out of fashion a couple of centuries ago) who said that now they were too old to get "pisshed" so they'd tell us the best spots to get "pisshed".
Lazy lazy lovely lazy boys who went everywhere very slowly and daily would be recovering from the half remembered nights before. Ice lollies: that had to be purchased in the mornings to stop over heating in the tent. The Icy Atlantic. Comic books and Charles Handy. A lovely and very necessary shower but feet from our tent. Hello Kitty. Gorgeous flowers. Sweet ass barbeques laid on by the boys and then the ex-pats with sumptuous swimming pools and delightful dogs, one of whom couldn't get enough of headers.
Some of it was messy (slightly excessive drinking), and some of it was annoying (boys not being on the beach for volleyball when they said they would be, sand being blown by the wind at an unpleasant angle and camping German families playing operatic rock music at 10am to rouse their family and the unwilling masses in Camping Trinidade). But most of it was laughs, table dancing, sunshine, relaxing, getting lost and found, nice little beach bars and top notch partying.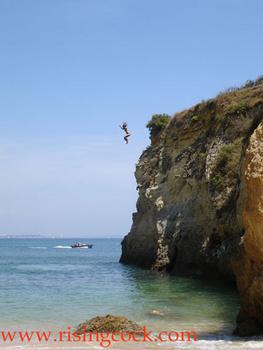 Head banging, pole dancing right,
Contemplating in moonlight
swimming through ice and cocktails
sunshine and sand never fails