Back to Uni… Marvel–lous!
Well, I be back at the splendiferous learning establishment that is the
University of Warwick.
Much to my dismay, the inter-lecture snoozes I enjoyed back at Rootes are now
replaced by mind-bendingly boring Library visits, of which this is my first. As
you can tell, I'm using it constructively. If I had some work to do, fine, but
spending 3 hours dossing about with nothing interesting to do really is boring.
Phat Bloggage could fill this fairly yawnful void, but I'd need something to
write about. I could document my social life, as some are wont to do, but who
wants to hear about evening alternately filled with massive drinking or massive
lazing? Precisely.
I could alternatively talk about something relevant and "current-affairsy" but
then, that's pretty damn boring too.
So dear listeners, you see my dilemma. I do, however, only have 75 minutes until
my next lecture and so perhaps a bit of mindless rambling could munch away into
that time.
Oooh, I know, how about something controversial. Taiwan. There. That single word
has prevented anyone in China from viewing this blog. Dang…
Anyways, maybe I should move onto something a little less cutting edge. How
about… superheroes? While I was on holiday with two friends from school, we
got onto a discussion about superheroes, be they Marvel, 2000AD, or whatever.
More importantly, rubbish superheroes. You know who I mean… people like
Superman. "Superman?!", I hear you cry. Well, think about it. In terms of
superpowers, he's pretty much invincible. Man of steel, can fly really really
fast, has all kinds of funky vision and stuff. Kind of unfair, doncha think,
when someone like Jubilee from the X-men has the almighty power of firing
sparks from her hands. She'd be more of a nuisance than a hero, especially
around petrol stations… Anyhow, I digress. Superman is fundamentally rubbish.
His real world "disguise" consists of friggin' glasses for god's sake! Anyone
who can't see through that "diabolical" ruse needs to be lobotomised – If I was
Lex Luther, I'd just dump Kryptonite on the Daily Planet and be done with it!.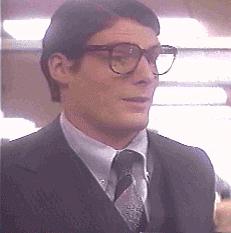 Spot the difference!
Someone like Spiderman is a far better hero. Yeah, he can sling webs and climb
walls and has lightning fast reflexes etc etc but at least he has a proper
disguise, so it's like a real alter-ego. Having said that, these regular
heroes are pretty poor. You want the bad guys for the real fun. Someone like
Venom, he's kinda bad but he's much cooler than Spidey.
Some villains are pretty rubbish and overpowered too. Someone like…
Apocalypse, I think, from X-men… He's damn near invincible, has no apparent
weaknesses and stuff, can morph and grow into anything he wants, kinda limits
the fight you can put up against him.
Having just realised how nerdy that seems, I feel that it's time to end this
entry, for fear I suddenly develop acne and a need to wear NHS prescription
glasses…
Alex out.